AMAZINGLY GOOD SALMON POOLS

THE AVERAGE WEIGHT PER FISH 6-8 KG
SALMON FISHING ON TORNIO RIVER, LAPLAND
The Tornio River (also called the Torne River) is famous for its big salmon. The average weight per fish for the whole fishing season has been around 6-8 kg in recent years. Every year the biggest salmon caught in the Tornio river weighs more than 20 kg, so you have a realistic chance of catching the fish of a lifetime. These are mesmerising numbers, and if you really want to feel a big salmon pulling your line, the Tornio River is the right place for you!
CATCH A SALMON OF A LIFETIME UNDER THE MIDNIGHT SUN
Salmon fishing seasons in Tornio River
Salmon season in the Tornio (Torne) River Valley starts on the 1st of June and lasts until the 31st of August. The salmon season in Lapland is short if you compare it to British, European or some American salmon rivers. The season lasts only three months because winter ice doesn't usually melt from the Tornio River until early or mid-May. The salmon season ends on the last day of August, because salmon here in the North begin their spawning in September.
Early season of salmon fishing
After the ice melts, the first salmon start their migration to the river. Every year the first schools of fish must have passed the echo sounder at Kattilakoski, before fishing is permitted. In early June, the water is usually cold, very high and running fast. Floods are common in the beginning of the season. In the southern parts of the Tornio River, good fishing often starts immediately from the first day of the June. In the Pello region where Naamisuvanto lays, the first fishing week starts slower, though you still have a chance to catch fresh salmon. In the second week, migrating fish start to hit Pello, and our season really gets going. There still aren't the biggest schools of salmon, but the biggest fish come first. Within the first two or three weeks, there might be high waters and less fish than in later parts of the season, but when you hook a salmon, it might be the catch of a lifetime!
On the other hand, high water is only a case of choosing the right gear for fishing. The water will likely be cold (4-12 ºC), which is near optimal for salmon, so they bite well if you hit the right places. One secret for successful fishing in the early season is definitely to fish places where fast moving salmon might slow down for a while. These places are bottlenecks of big rapids, pools after the big rapids, deeper holes in calmer pools, and deeper curves of streams. Another key element for effective fishing is to fish in the right depth of water.
When the water is high, really cold (4-8 ºC), and running fast, salmon swim fast upstream, but they travel near the bottom of the river. In these circumstances, it is unlikely that you will catch salmon with a lure or fly near the surface. So use sinking lines or sinking tips and big flies for fly fishing, and in boat fishing use colorful deep-diver wobblers which wobble a lot.
Choosing a fly line depends of the depth of the pool you are fishing. Versitip-lines are a good choice for early season fishing, because you can change the tip while standing in the water and keep on fishing. You can also manage with sinking shooting heads, skagit or spey lines. But remember to bring enough gear if you want to fish in different places and water conditions effectively. In deep pools you need to have line which sinks quickly enough to hook a fish in cold and high water.
If the water is warmer or lower in the beginning of the season, fishing is more like normal summertime salmon fishing. If the water is near 10 ºC or warmer, salmon are active and will rise to flies or wobblers even on the surface. For fly fishing, use slow-sinking, intermediate or even floating lines and smaller flies. In boat fishing you can use normal size wobblers, flies and spoons, which don't sink too deep. If the water is cold, but still low, you have to get nearer the bottom. When the water is low, lines can still be lighter than in high water fishing, and lures should float near the bottom but not too deep.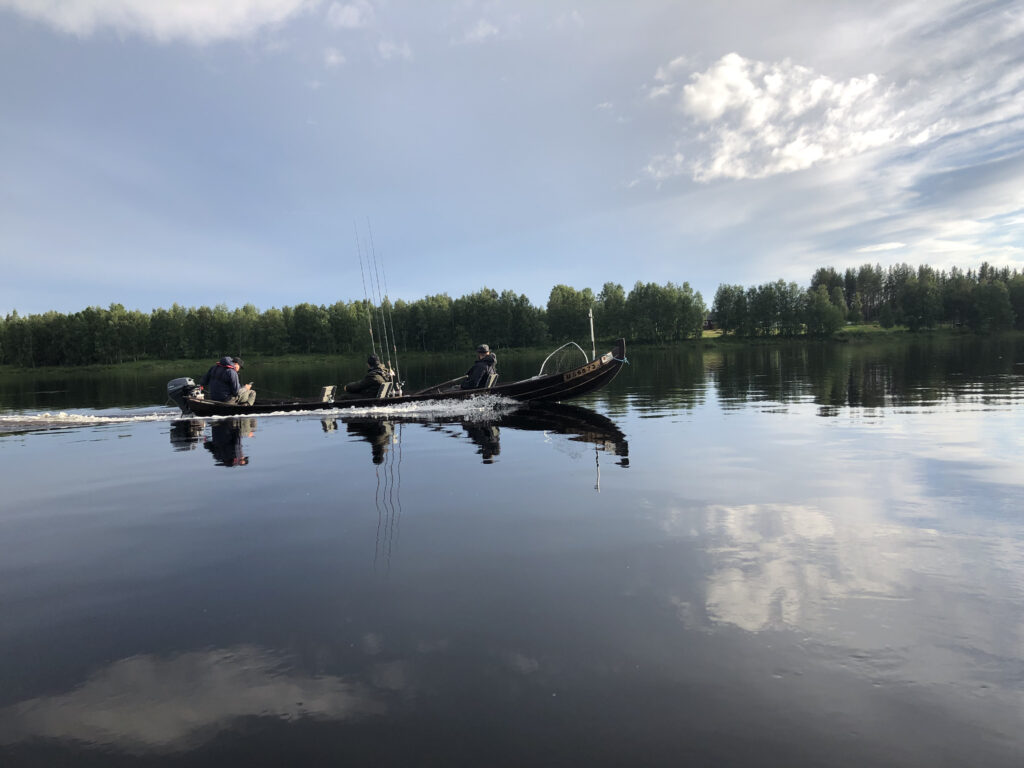 Fishing salmon in summer
Around Midsummer in late June, the main run of salmon arrive in the Pello region. The first flood has usually receded. Melting waters from Swedish mountains may cause a second flood around Midsummer, but it is rarely as big as the first one. Summer is at its most beautiful. The midnight sun is up almost 24 hours a day, birds sing, and trees and grass are green. Water temperature around Midsummer is often 10-15 ºC, which is ideal for salmon fishing. The main run is in the river, so there are plenty of fish, and they are active. This is the moment every salmon fisherman is waiting for. Every time you're in the river, you have a good chance of hooking a salmon, big, powerful and silvery! For fly fishing, use floating or intermediate lines (maybe some sinking tips, if you want fish deeper holes as well) and normal size and small flies. Presentation can be more active, and you can maybe speed up your line more than in the early season. Cast also at 90 degrees, and sometimes it is even worth stripping your line! In boat fishing, you can also maintain more speed than in early season rowing. Normal wobblers and flies work fine in bright colours like green/yellow, black/red, orange, copper and gold.
When July comes, the main run of salmon continue to enter the river. There are still big fish coming, but two-year-old salmon and grilse start to make up a bigger proportion of the fresh, running fish. The water continues to lower. Depending on the weather, the water might also get warmer, as it has often happened in July during many of last salmon seasons in the Tornio Valley. If water temperature stays under 18 ºC degrees, fishing continues really well, because new fish continually come to the river. There are also fish that have taken their places in the river. Those fish are waiting for the spawning season. Every time new fish come downstream, the placid salmon also become active, and they might take your lure or fly. If water temperature is below 15 ºC degrees, keep fishing pretty much same way as in late June. Slightly darker colors like black/copper start to work, and don't forget your black fly in the night time! If water temperature is between 15-18 ºC, try smaller flies and wobblers. For fly fishing, dry fly fishing or hitch flies are good options. However, when the water is warm, and everyone is fishing near the surface, sinking line near the bottom can surprise you. In boat fishing, we recommend using more flies than wobblers. Good spoon and fast rowing is often a solution in warm water boat fishing.
If the water is warmer than 18 ºC and low, salmon fishing is very difficult. Though there might be lots of fish in the river, they get very passive in warm water, and hooking one is a hard task. Concentrate your fishing on the colder night time and during changes of weather. Rain especially might save your trip during warm conditions. Try very small flies or for example big silhouette files such as sunrays. Be creative and try the unexpected! If water is warmer than 23 ºC for too long, it can be lethal to salmon. Then it might be better to concentrate for example on swimming.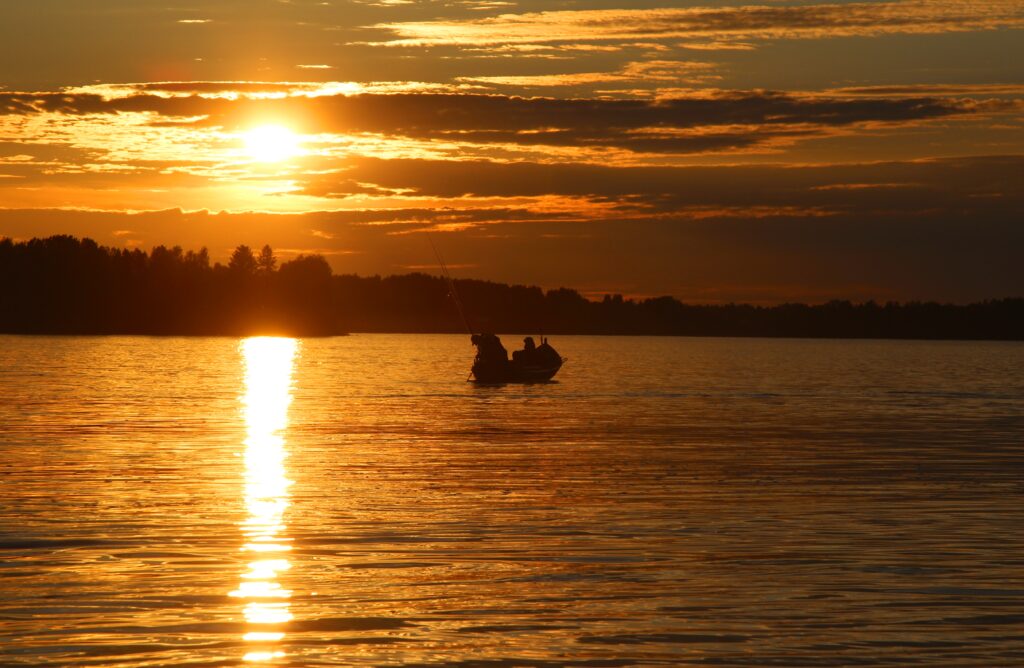 Late season of salmon fishing
When the nights start to get darker in late July and early August, the water can be a couple meters lower than in the start of the season. Because days are shorter and autumn is approaching, the weather often gets colder and so does the water temperature. There are not that many fresh salmon coming anymore, but even in the last weeks of August, you can hook a big silver fish. The main run of grilse keep coming in August, and they constitute the majority of the fresh fish. Because water temperature drops and the spawning season comes closer, fish that have been in the river longer become active again. As the water gets colder, the fishing gets better. Usually the last couple weeks of the season are really good fishing. For fly fishing, floats or intermediate lines work very well. If the water temperature drops under 10 ºC, faster sinking lines might work even better. In boat fishing, flies, wobblers and spoons all work nicely. Black, darker colors, and colors with strong contrast are really good. Still, if you want to hook one of the fresh salmon, don't completely forget brighter colors.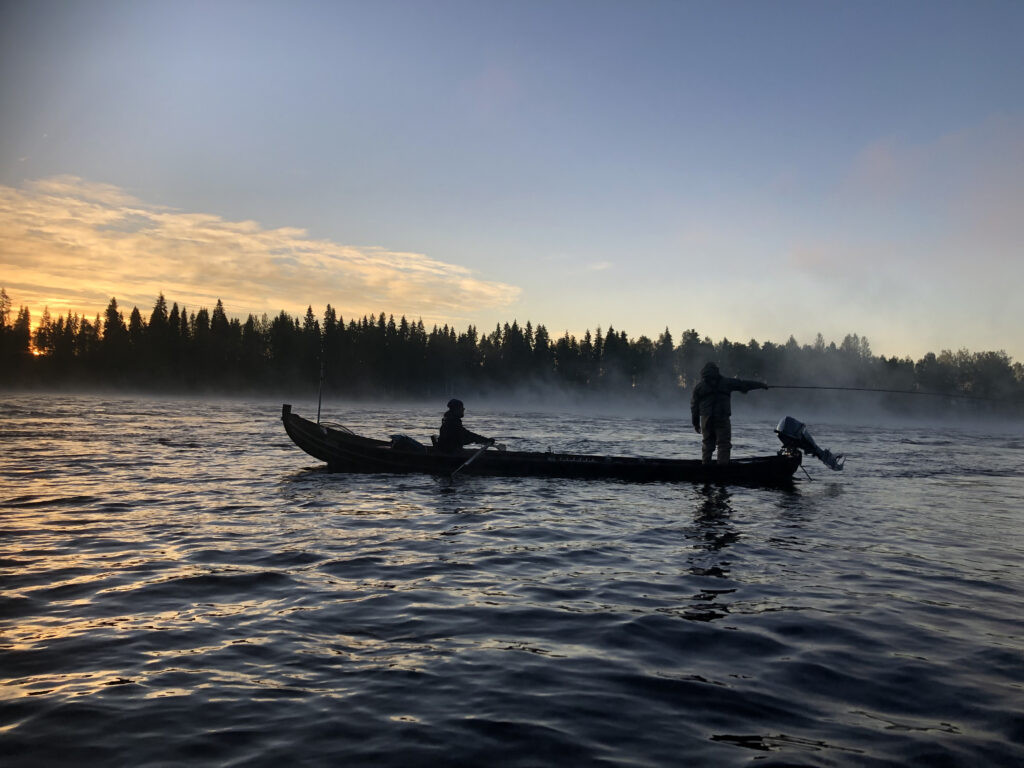 YOU MIGHT BE ALSO INTERESTED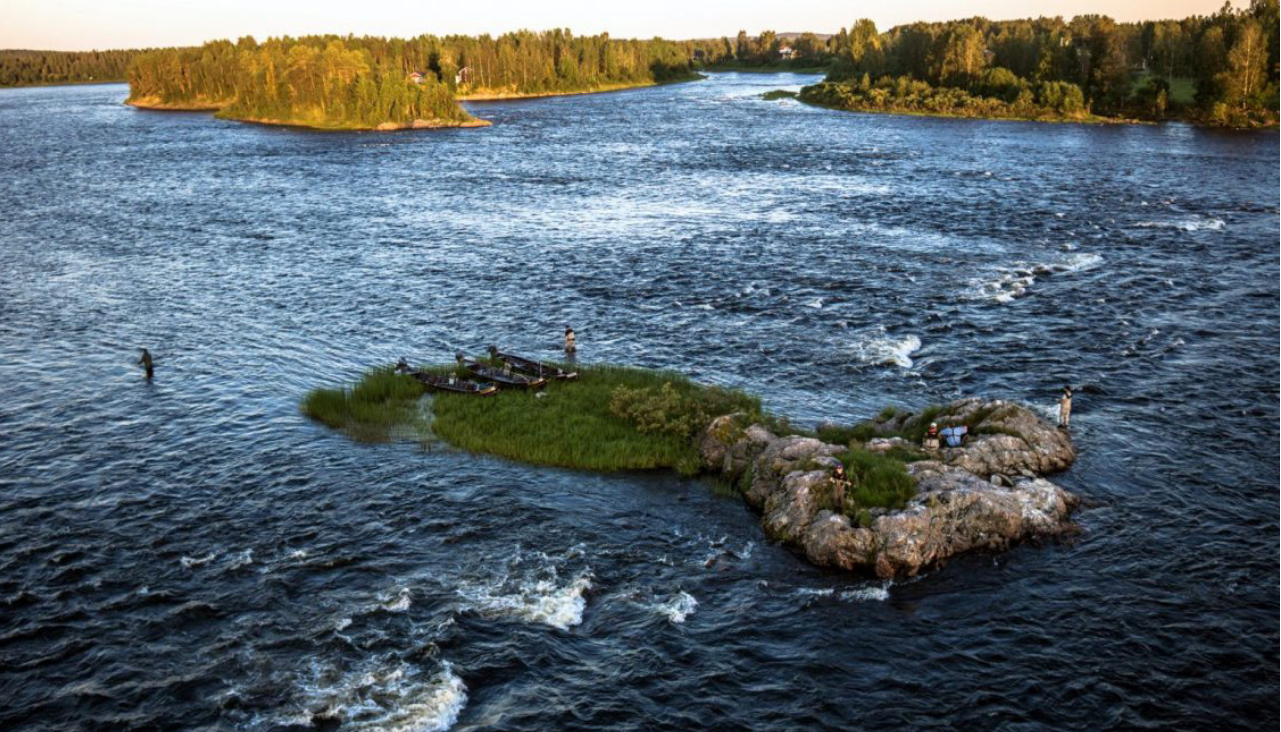 BIG RIVER, BIG FISH, BIG FAMILY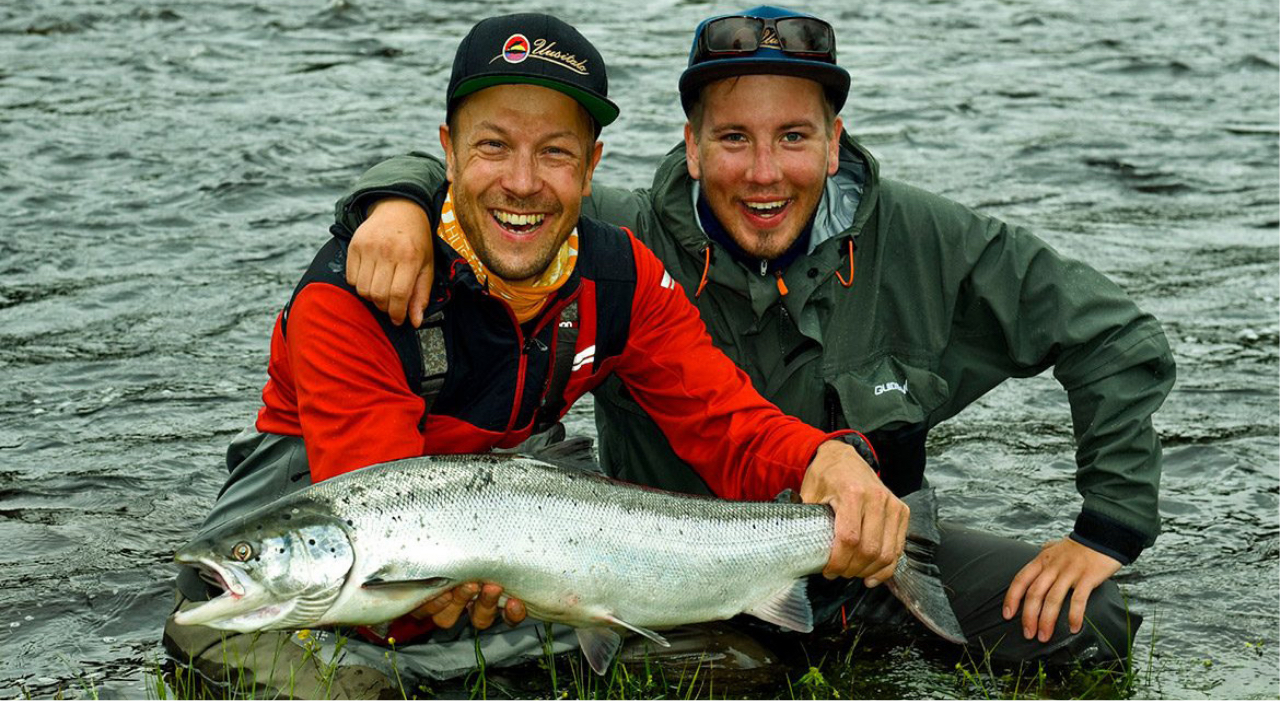 GUIDED FISHING WITH EXPERTS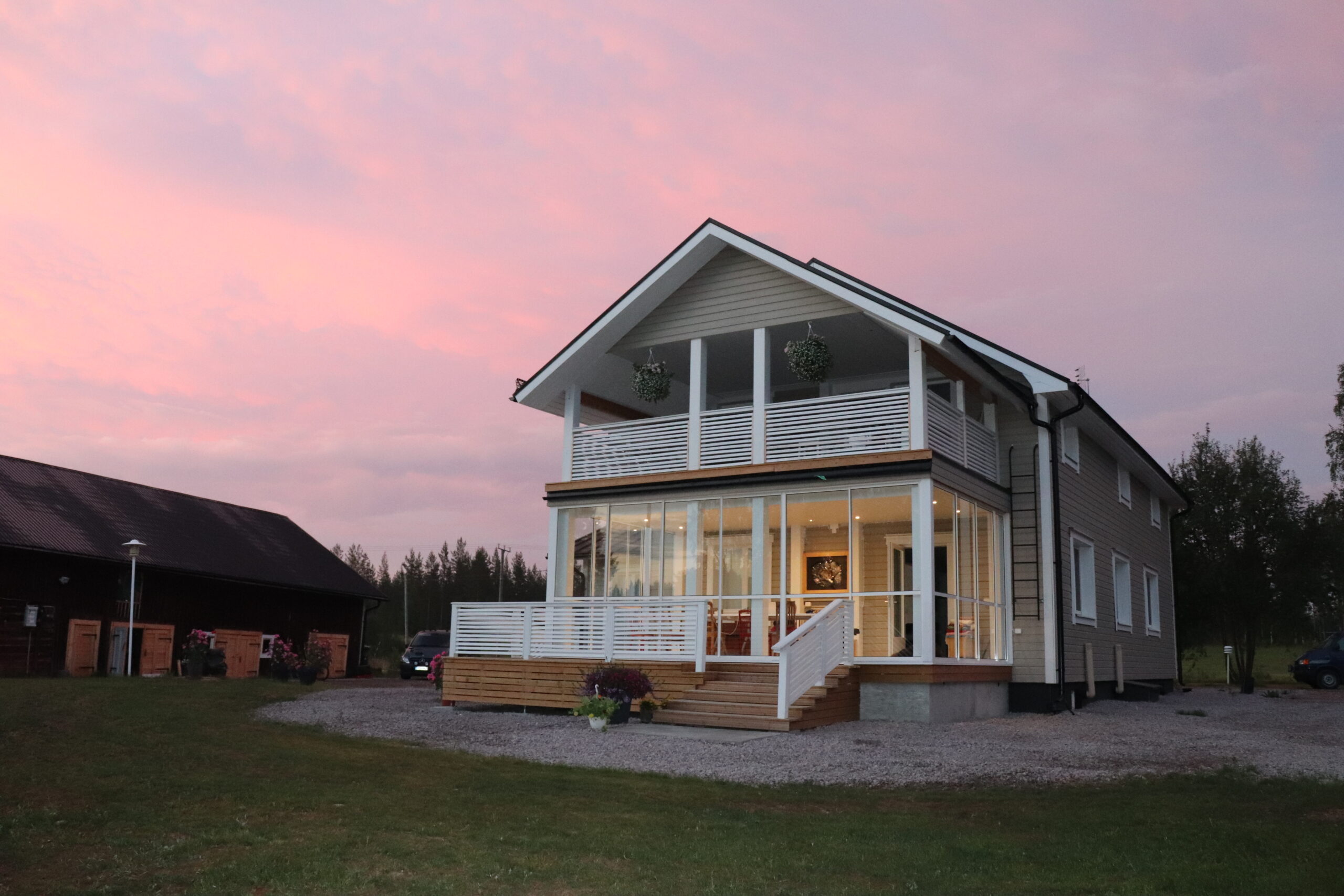 Rest between fishing